CEO Message About HAIYANG
The HAIYANG Product With the world's Best quality
HAIYANG OLIX will be the future of marine equipments.

Under the banner of founding a marine country, we have done business at the electronic community of a vessel no better than a barren land with a view to playing a key role of expanding the ship electronic equipment and advancement of backward fishery for 35 years.

Looking back on It, we have gone through undescribable suffering at poor industry of early stage, but created a footboard to give re-birth to Haiyang in your encouragement and love, and grown as our all Haiyang, a core specialized manufacturer with 35 year history leading Korean ship electronic equipment industry, not a firm for marine businesses.

This can not be imagined without your concerned eyes and arid rebuke, for that we express our heartfelt thanks to you again.

Take a general navigation device as an example. The ship electronic equipment industry have so rapidly developed as to feel in a different age for 30 years, and repeated accumulation of this career and ceaseless growth in keeping abreast with your expectation like winning the million dollar tower first in 1988 is the fruit of our constant effort.

As you may know, all industries have entered into indefinite competition age with the UR consummation and WTO launching in 1995, and the ship electronic equipment industry is not an exception.

This domestic and foreign market conditions will be another trial to our industry. Hereby we commit ourself to imposingly stand before you as a world Haiyang Products leading the upcoming 21st centry by getting over this hardship base on 20 year experience. Thanks a lot.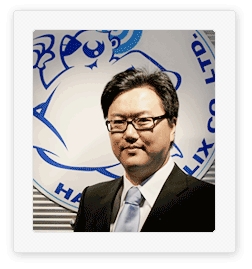 Sincerely Yours, Kim, Youn
CEO of Haiyang OLIX Co., Ltd.